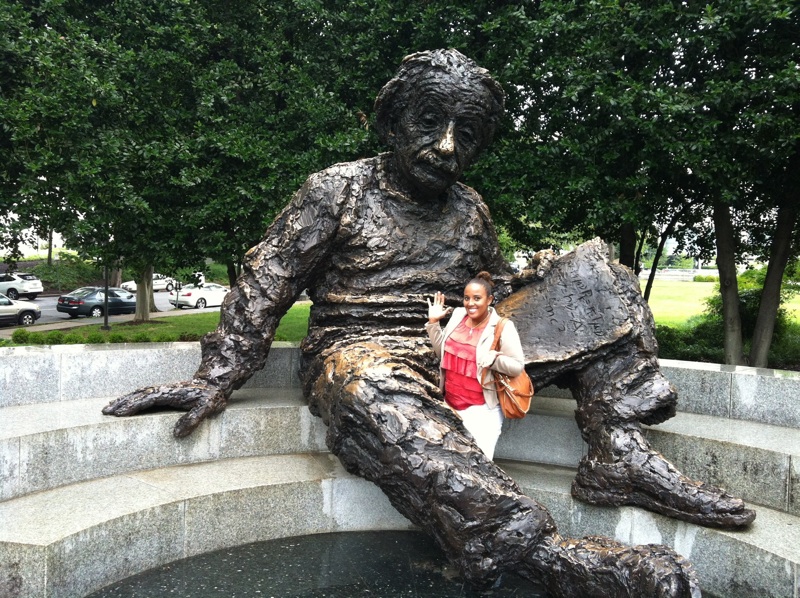 Yesterday was the official start of the exchange program along with my birthday..... 25!! And as all good days start a cup of coffee is a must.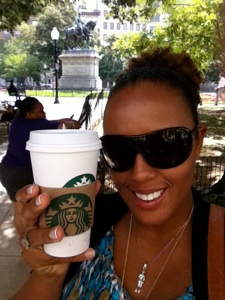 Our first stop was at World Learning the organization that is coordinating our program. Here we got the briefing of what to expect throughout our travels.


This trip is really three weeks of networking and cultural experiences. Which means the fist stop on our agenda was the Environmental protection Agency where we met with the Senior Education Specialist of the Office of Environmental Education.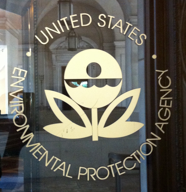 A very organic meeting and discussion, we talked about the need for there to be a paradigm shift in education as opposed to just putting up posters or producing PSA's but rather a form of environmental education that inspires people to take responsibility of their actions - this requires behavior change and there is no doubt that this is a difficult task. The EPA has been making initiatives to have environmental classes become accredited classes just as a math, science or language class. Teacher training goes hand in hand with this type of initiative as teachers need to be equipped and feel comfortable in a subject area to teach it in the classroom.

After leaving the EPA we went to check out the view from the old post office building.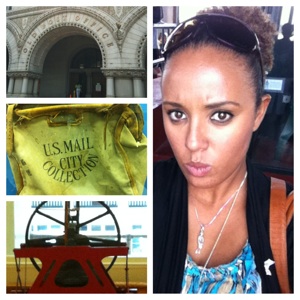 and this is what we saw ..... i did think the roof top garden was cool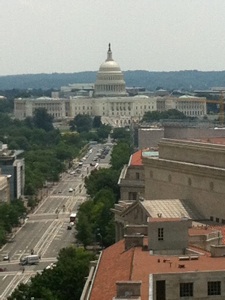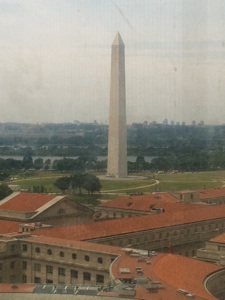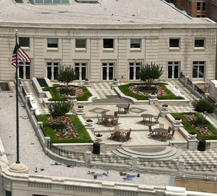 The next stop was to a federalism briefing which i found really interesting. A professor from George Town University gave a talk on the Paradox of American Policy.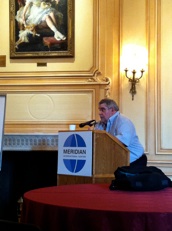 He elaborated on this point explaining that the US is a country marked by individualism and that individualism is ingrained in the countries history. When the USA was first "created" it was fighting against European absolutisms, that power should not be in the hands of the centralized government but rather power should be decentralized. Noting that the US has a well organized and dense civili society, the professor explained that this in a way is a contradiction to the individual nature of the country. Although individualism is the principle, citizens of the United States form groups based on their interest. The reasoning behind this is capitalisms and that the individual must defend ones own interests. The professor went on to explain that the religious diversity of the United states discourages a centralized government.



June 12th

Getting up early again we had our first meeting today at 8:30 at world learning again.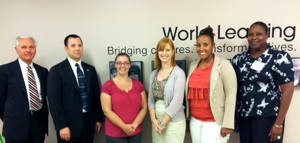 From their we went to the State department and met with representatives from the Bureau of Western Hemisphere Affairs, Bureau of Oceans Environment and Science , Bureau of Oceans and International Environmental and Scientific Affairs. They spoke specifically about some of the projects that they were working on in Omen and Chile with education and teacher training as well as work taking place in latin america and the Dominica Republic on Energy and Climate projects.

It was outside the state department that i was able to take a picture with a cool guy............ Einstein


Probably the most exciting meeting for me so far was with the National Council for Science and the Environment (NCSE)
www.NCSEonline.org
. There we met with their senior scientist and director of education as well as the director of DC EnvironMentors. which takes high school students and pairs them with a professional in the environmental field and together the mentor and the students design a research project which they then work on for the school year. As you can well imagine at this point my wheels where churning and well I have a follow up meeting with them tomorrow to see how we can form a YME - EnvironMentors relationship. They also have some really great resources such as the encyclopedia of earth
www.EoEarth.org
and an Environmental Internship Clearinghouse
www.environmentalinterns.org
. Two great resources that I hope students throughout the bahamas take advantage of.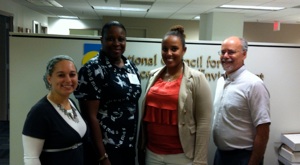 The last meeting of the day was at the National Environmental Education Foundation. Their focus is providing resources to teachers K-12 and encouraging them to include environmental concepts inside the classroom when you are teaching spanish, math, or geography. This website is a great source for teachers and I hope that Bahamian teachers can utilize some of the resources that they provide,
www.neefusa.org
.